iSON Xperiences Joins the Global BPO Alliance (GBA)
April 6, 2023
The Alliance is leading BPO-call center services from South-East Asia to Africa GBA- Global BPO Alliance is pleased to Welcome iSON Xperiences as its newest member of the global coalition. The alliance brings together independent BPO providers from around the world. The addition of ISON Xperiences gives GBA a position of leader from South-East Asia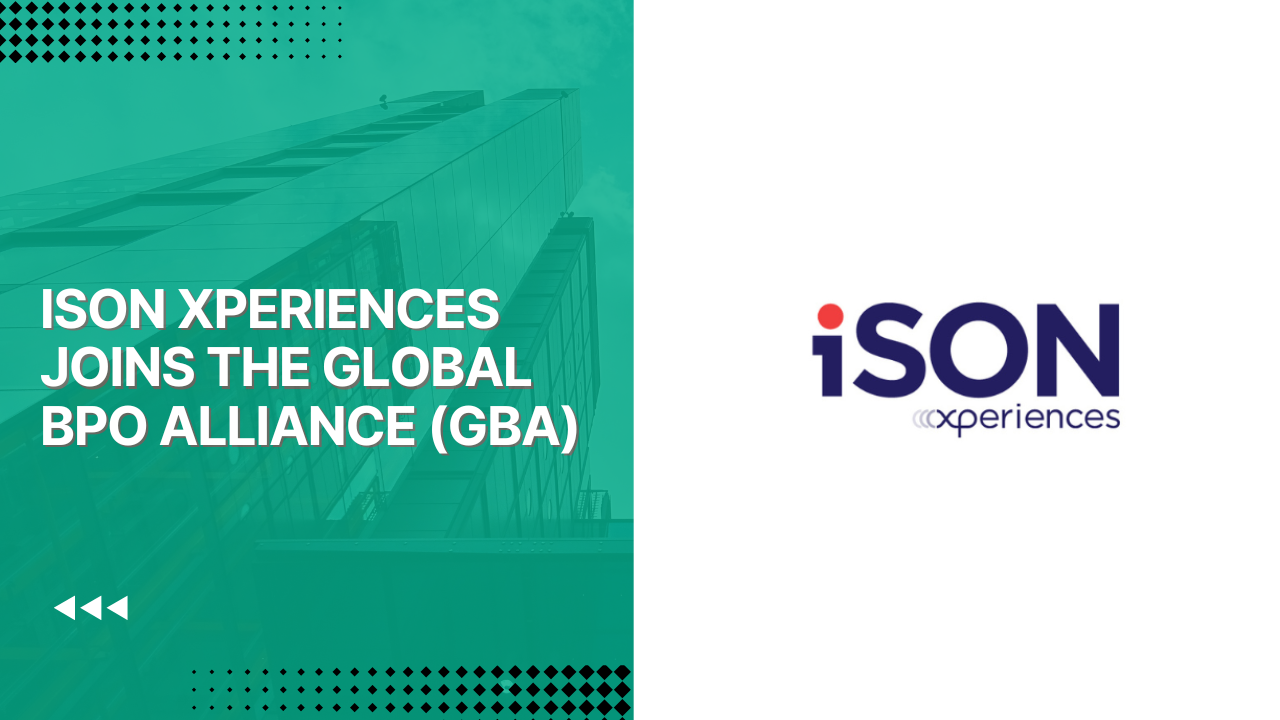 The Alliance is leading BPO-call center services from South-East Asia to Africa
GBA- Global BPO Alliance is pleased to Welcome iSON Xperiences as its newest member of the global coalition.
The alliance brings together independent BPO providers from around the world.
The addition of ISON Xperiences gives GBA a position of leader from South-East Asia to Africa regarding the total number of countries -25 – and the total number of seats – 30,000.
According to Denis Guittet, Chief Executive Officer of GBA,
By joining our alliance ISON Xperiences allows the GBA to finalize the junction between The Philippines and South Africa; all together GBA Global BPO Alliance has nowadays the largest presence in Africa, Middle-East and South-East Asia. This zone is strategic for us due to the fast-growing population, already almost 50% of the world population, consequently, the investments are increasing a lot, this is why I do believe that this agreement will give us a key advantage over the next years for all kind of BPO requests.

This agreement will also bring a "multilingual hub" to our alliance due to the key position of Egypt for BPO-call center services.

Finally, this is also a big step forward regarding technology as iSON Xperiences has cutting-edge solutions regarding all kinds of BPO-call center IT services, this know-how will enhance our existing technology offer from Europe & America.

I wish a warm welcome to Mr. Ramesh Awtaney and the team at iSON Xperiences. I would like also to wish all of our customers and partners the best for 2022.
iSON Xperiences is equally enthusiastic about the floodgate of opportunities, this alliance will open for them.
According to Mr. Pravin Kumar, Group CEO iSON Xperiences,
iSON Xperiences becoming part of the GBA Global BPO Alliance is an exciting development and joining the alliance will further enhance our reach into global markets. This alliance fits well into our growth strategy of bringing offshore work into the African continent. GBA and iSON both will benefit mutually wherein iSON will get a global platform and GBA can leverage on iSON vast experience and expertise of working in African geographies for over a decade.
Mr. Pravin Kumar, Group CEO
About iSON Xperiences
iSON Xperiences is one of the largest BPO Organizations in Africa. iSON has a substantial presence in South Africa, Egypt, Nigeria, Ghana, and India apart from 12 other African countries. Our geographic presence gives us a unique positioning wherein we cover 85% of African economies' basis GDP contribution for the Africa continent.
iSON's 18000+ strong team based out of 17 countries services some of the largest global brands out of Africa for African and European markets. We take pride in being one of the largest jobs creating organizations in Africa. Our investment into African human capital has contributed immensely towards our growth over the past decade.
iSON realizes the immense potential the African continent has in terms of human capital and is working towards making Africa an offshore outsourcing hub over the next five to seven years. Our delivery ecosystem which is the right blend of Human and Technology has proven to be very successful and we strive to continue to build long-term relationships by exceeding customer expectations and building value for both clients and employees.
We chase excellence in assisting our clients by offering digitally-powered business process management and data solutions guaranteeing exponential growth and customer engagement.
About GBA Global BPO Alliance
Established to be a strategic partner for companies promoting globalization, GBA's mission is to continue to provide our
corporate users around the world, no matter where they are located or what the language they require, with peace of mind that they will be able to use a variety of BPO services at reasonable prices over the long term. Currently, 17 companies are members of GBA -50.000+ employees in 47 countries. Although we can service more than 40 languages, we will continue to aim to expand the number of languages we can service in the future.
Recent News